Introduction to Oslo, the Nordic Gem
Oslo, the capital city of Norway, is a picturesque destination that attracts travelers from all over the world. This Nordic gem offers a perfect blend of scenic beauty, cultural richness, and modern amenities. Oslo is situated at the head of a 70-mile-long fjord and is surrounded by mountains, which provides a unique opportunity for visitors to experience both the city life and the great outdoors. Oslo's charm lies in its simplicity and sophistication. The city boasts an eclectic mix of traditional and contemporary architecture, charming streets, and picturesque waterfronts. The city's cultural legacy is well-preserved through its museums, art galleries, and theaters. A trip to Oslo is a chance to rediscover and appreciate the finer things in life.
Exploring Oslo's Historic Landmarks and Cultural Hotspots
Oslo is well-known for its rich cultural heritage, and there are numerous spots to explore for culture-vultures. The city has several museums that house thousands of exhibits that highlight the country's fascinating history and art scene. One of the must-visit destinations is the Munch Museum, which houses the largest collection of artworks by the renowned Norwegian painter, Edvard Munch. However, Oslo's cultural offerings are not limited to museums. The city's architectural landmarks are an interplay of eclectic styles which represent Norway's cultural heritage. The The Royal Palace, the Akershus Fortress, and the Oslo Cathedral are some of the iconic landmarks worth visiting. For the more contemporary scene, travelers can head to Grünerløkka, a hip neighborhood that's a hotbed of music, art, and fashion.
Enjoying the Great Outdoors in Oslo's Stunning Backdrop
Oslo's natural surroundings are breathtaking, and there are many activities that visitors can partake in to enjoy the outdoors. For hiking enthusiasts, there are countless hiking trails that offer stunning views of the city and the surrounding countryside. The city's beaches and parks are perfect for picnics, sunbathing, and swimming during the summer months. Oslo's waterfronts and fjords provide an opportunity for canoeing, kayaking, and paddle-boarding. The world-renowned Holmenkollen Ski Jump and the Tryvann Ski Center are perfect for winter sports enthusiasts. Whether you're in Oslo during the winter or summer, there is something for everyone to enjoy in the great outdoors.
Discovering the Unmatched Culinary Scene of Oslo
Oslo's culinary scene is exciting and diverse, with a variety of restaurants that cater to different tastes and budgets. The city's traditional Scandinavian cuisine is characterized by fresh seafood, cured meats, and artisanal cheeses. However, Oslo's culinary scene is not limited to traditional Norwegian fare. The city has a thriving street food culture, and one can indulge in everything from kebabs to tacos. One of the best ways to experience Oslo's culinary scene is by visiting Mathallen, which is a bustling food hall in the Vulkan neighborhood. Here, visitors can sample local and international culinary delights in a vibrant atmosphere. Whether you are in the mood for local delicacies or worldly flavors, Oslo's culinary offerings will not disappoint.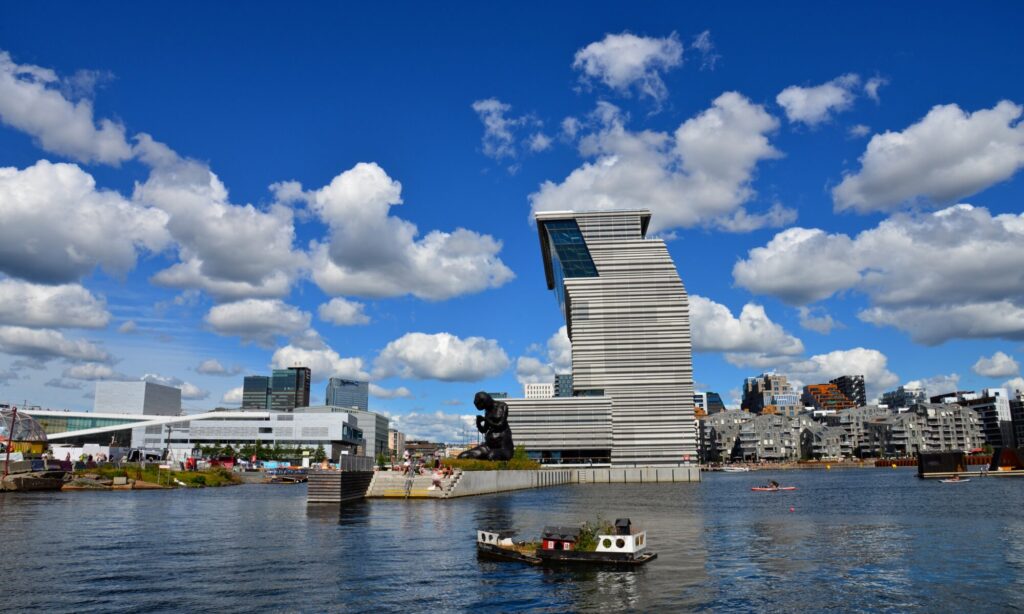 Experiencing the Vibrant Nightlife of Norway's Capital City
Oslo's nightlife is vibrant and diverse, with options that cater to all interests. The city has an eclectic mix of bars, nightclubs, and music venues that offer a range of entertainment options. From jazz bars to techno clubs, there is something for everyone in Oslo's nightlife scene. One of the best ways to experience Oslo's nightlife is by visiting the Aker Brygge waterfront, where many trendy bars and restaurants are located. During the summer months, the city's parks host several music festivals, which are popular among locals and visitors alike. A night out in Oslo is an experience that will leave you energized and entertained.
Tips for Planning an Unforgettable Trip to Oslo
When planning a trip to Oslo, there are a few things to keep in mind to make the most of your experience. Firstly, it's essential to book your accommodations in advance, as the city can get packed during peak tourist seasons. Secondly, it's advisable to purchase an Oslo Pass, which provides free access to public transport and discounted entry to museums and other attractions. Finally, visitors should pack appropriately, depending on the season of their visit. Comfortable shoes are essential for exploring the city's many sights, regardless of the season. Oslo's weather can be unpredictable, so it's advisable to carry a good raincoat and warm layers, depending on the time of year.
Conclusion
Oslo, the Nordic gem, is a destination that offers something for everyone. Its unique blend of scenic beauty, cultural richness, and modern amenities make it a sought-after traveler's paradise. Oslo is not just any city, but one that is unparalleled in terms of its natural surroundings, cultural heritage, and contemporary amenities. A visit to Oslo is an experience that will leave you with unforgettable memories and a desire to come back for more.
---
Working with Norwegians is the guide to work culture in Norway.
Living with Norwegians is the guide for moving to and surviving Norway.